GIS Fees
The cost of the Guarantee and Inspection Service (GIS) fee in your project is based on the architectural woodwork contract amount. The GIS cost is part of the tendered lump sum.
Please note that there is not a new calculator at this time. There are a few different calculation processes among the chapters, and we are determining how to proceed with this nationally. If you need help with calculations, send an email and we will help you however we can.
Need assistance calculating the GIS fee? Email us at gis@awmac.com.
2023 GIS Fee Increase Notice
AWMAC's Guarantee and Inspection Service (GIS) will see an increase in fees as of January 1, 2023. This increase is the first since 2016 and will help AWMAC maintain our commitment to providing the very best services to you.
The increase will apply to all AWMAC GIS-specified projects tendered on or after January 1, 2023. Projects tendered before January 1, 2023, will maintain the rates that came into effect on January 1, 2016.
The GIS fee increases are as follows:
Projects under $25,000 have increased by $50 and are now $900 per project.
Projects $100,000 and under have increased by $100 and are now $1,600 per project.
The first $500,001 of all projects over $100,000 has increased by 0.1% and is now 1.6% per project.
All other fees remain the same and are provided in the chart below. If you have questions about the changes or questions about AWMAC's GIS, please contact your regional AWMAC Chapter or AWMAC directly at gis@awmac.com.
GIS Fees Per Project
As of January 1, 2023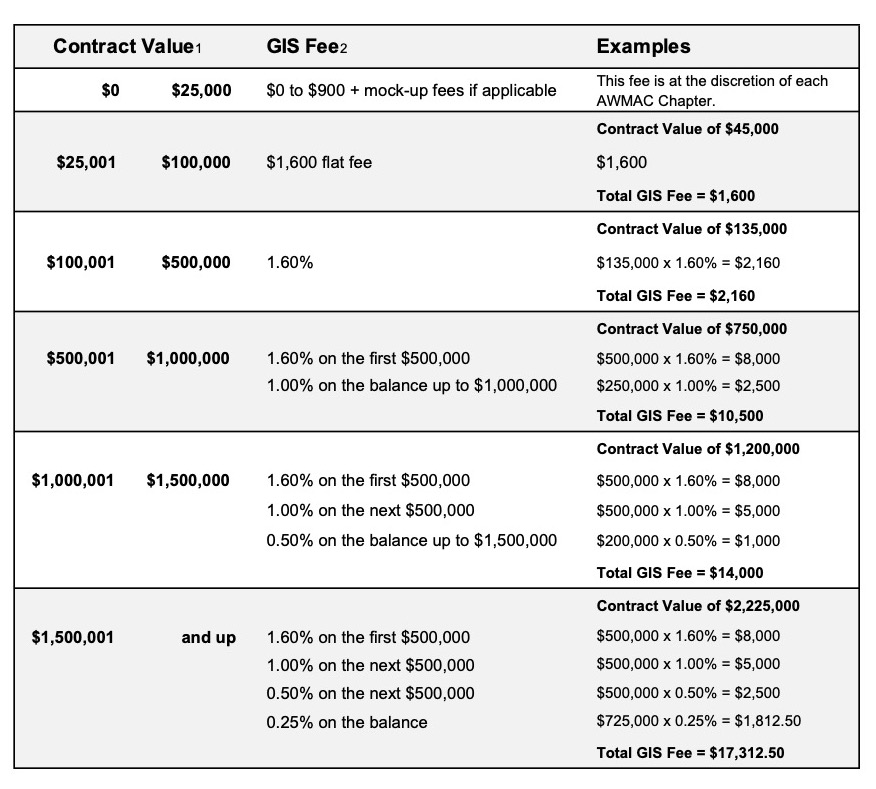 1 – CONTRACT VALUE refers to the value of the project's GIS-specified architectural woodwork.
2 – GIS FEE refers to the fee AWMAC charges to the manufacturer who in turn receives the GIS (and 2-year warranty if an AWMAC Manufacturer member) on a project's GIS-specified woodwork. Fees may be flat or percentage-based.